Uta Reinhardt: lush


Opening: September 14, 2023, 6-9 pm

Exhibition: September 15 - October 28, 2023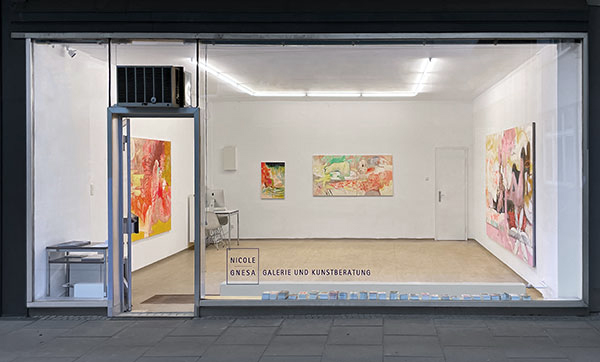 Nicole Gnesa ist stolz, ab dem 14. September 2023 in der Ausstellung lush neue Arbeiten der renommierten Malerin Uta Reinhardt zu zeigen.

Bereits der Titel lush verweist auf die üppige Pracht und das lebhafte Wachstum, die in dieser Werkgruppe zum Ausdruck kommen. Doch liegt der Fokus nicht allein auf dem Motiv des Gartens, die Ausstellung ist eine Huldigung an die Kraft der Ahnung und der Erinnerung.

Ob Epikurs Kepos, Monets Giverny oder Heideggers Todtnauberg, seit jeher gilt der Garten unter den Gelehrten und Künstlern als Ort der Kontemplation, der Ruhe und Inspiration. Auch bei Uta Reinhardt zeigt sich der Garten als locus amoenus, doch gleichsam wird der Betrachter irritiert und eine tiefe emotionale Resonanz wird hervorrufen.

Uta Reinhardt spielt mit verschiedenen Techniken, um diesen Eindruck zu erzeugen. Sie setzt zur klassischen Malerei Siebdrucke ein, aber nicht in der üblichen präzisen Weise, die diesem Medium eigen ist. Stattdessen nutzt sie die Siebdrucke, um eine Art verschwommene Schichtung zu schaffen. Diese bewusste Unschärfe erzeugt eine fast traumähnliche Qualität. Die Linien und Formen verschmelzen, verwaschen und verschwimmen, vergleichbar mit den unklaren Konturen unserer Erinnerungen, die sich im Laufe der Zeit kontinuierlich transformieren und zu einem reichen Geflecht aus Emotionen und Erfahrungen entwickeln. Der Betrachter wird dazu eingeladen, in die großformatigen Bilder und damit in die eigene Vorstellungswelt einzutauchen, in lebendige Echos vergangener oder antizipiert kommender Zeiten.

Jedes Bild wird zur Versuchsanordnung mit den Variablen Oberfläche, Raum, Licht, Linien und Form. Dabei setzt sich die Künstlerin bewusst der Relativität der Farbe aus und arbeitet mit diesem Vagen, um eine größtmögliche Offenheit im Hinblick auf das, was sich dann auf dem Bild zeigt, zu ermöglichen. Sie setzt die malerischen Mittel vielfältig, vielschichtig und opulent ein, dabei folgt sie malend dem Bild, nie umgekehrt. Das hat zur Folge, dass die Gemälde im Malprozess ein eigenes Selbst entwickeln, sie wachsen förmlich wie Pflanzen und nehmen Gestalt an.

//


Nicole Gnesa proudly presents new works by the renowned painter Uta Reinhardt in the exhibition lush, from September 14, 2023.

The title lush already refers to the opulent beauty and vibrant growth expressed in this group of works. However, the focus doesn't rest on the garden motif; the exhibition is a tribute to the power of anticipation and memory.

Whether Epicurus' Kepos, Monet's Giverny, or Heidegger's Todtnauberg, the garden has always been perceived by scholars and artists as a place of contemplation, serenity, and inspiration. In Uta Reinhardt's work, too, the garden appears as a locus amoenus while simutaneously unsettling the viewer, evoking profound emotional resonances.

Uta Reinhardt plays with diverse techniques to create this impression. She integrates silkscreens alongside traditional oil painting, but not in the conventional precision associated with this medium. Instead, she employes silkscreens to create a kind of blurred layering effect. This deliberate blurring produces an almost dreamlike quality. Lines and shapes blend and blur, comparable to the fuzzy outlines of our memories, which continually transform over time, evolving into a rich tapestry of emotions and experiences. The viewer is invited to immerse themselves in the large-format paintings and thus in their own imaginative realm, replete with vivid echoes of times past or anticipated times to come.

Each painting becomes an experimental composition involving the variables of surface, space, light, lines, and form. In doing so, the artist consciously exposes herself to the relativity of colour, harnessing this ambiguity to create the utmost openness regarding to what then appears in the painting. She uses painterly techniques in a varied, multi-layered and lavish way, following the painting as she paints, never the reverse. As a result, the paintings develop their own identity within the painting process, they literally grow like plants and assuming shape.